The NetWaySP4BTWP is an outdoor, 4-port, hardened 802.3bt compliant PPoE switch with integral power. It is equipped with two GB SFP (fiber) ports, as well as VLAN support. The NetWaySP4BTWP supports single/multi-mode fiber from NetWay Spectrum fiber media converters. Cameras/edge devices may be located up to 100m from the unit. Embedded LINQ™ Technology allows users to monitor, control, and report power diagnostics from anywhere.
NetWaySP4BTWPX is a larger enclosure and includes a battery shelf.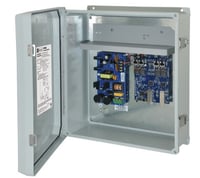 POE240 is a power supply/charger with LiFePO4 battery backup.