Altronix Trove™ Recognized in the Power Management Category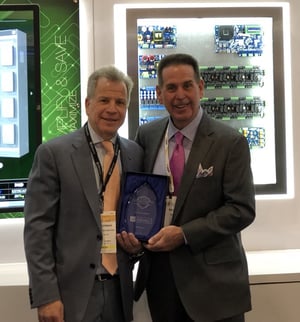 L to R: Alan Forman from Altronix and Brian Rendine
of Security Today/Campus Security & Life Safety
Brooklyn, NY (April 27, 2018) – Altronix, the recognized leader in power and data transmission solutions for the professional security industry, has been awarded a Platinum Secure Campus 2018 award from Campus Security & Life Safety for their Trove™ Access and Power Integration Solutions. Introduced this year, the Secure Campus awards honor outstanding campus security services and products based on multiple criteria, including: Features, Innovation, User Friendliness, Interoperability, Quality, Design, Market Opportunity and Impact in the Security Industry, Technical Advances and Scalability.
Altronix's Trove, which was recognized in the Power Management category, simplifies board layout and wire management - while providing more flexibility when designing and deploying scalable access control systems. Trove's removable backplanes allow integrators to easily configure and test systems prior to on-site installation, reducing time and labor –increasing profitability. Trove now supports over 40 brands, including: AMAG, Bosch, CDVI, DMP, Genetec, HID Global, Honeywell, Kantech, Keyscan, Lenel, Mercury, Paxton, ProdataKey (PDK), Sielox, Software House and ZKTeco USA with more to come.
"Altronix prides itself in providing security professionals with highly efficient and reliable products. We are extremely proud upon receiving this recognition," said Alan Forman, President, Altronix Corporation.
For more information on Altronix's extensive line of products, call toll free 1-888- 258-7669, e-mail info@altronix.com or visit www.altronix.com.